"
Classic Mode—a back-to-basics mode that focuses on core combat and movement. There's no in-match Store, Radar, Mysticals, or Sidekicks and Heavy Weapons will spawn around the map.  
"
 

— Naughty Dog's official description of Classic Mode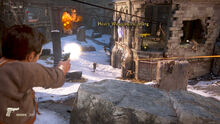 Classic Mode
is a gamemode in
Uncharted 4 multiplayer
.
Overview
Beta
Classic mode was a new gamemode after the bounty hunter DLC. Beta first started on November 3rd 2016 and finish on the 7th. [1]
It was re-added back into the multiplayer playlist on the 3rd February 2017 through the Patch 1.20 update.[2]
Description
Classic mode is based on Team deathmatch from Uncharted 2 multiplayer.
Difference from other Uncharted 4 gamemodes
No In-match Store
No in-game Radar
No Mysticals
No Sidekicks
No purchasable Heavy Weapons (Heavy Weapons will be spawned randomly around the map instead)
References
↑ http://www.naughtydog.com/blog/uncharted4_multiplayer_beta_test_classic?utm_content=sf40966922&utm_medium=spredfast&utm_source=twitter&utm_campaign=Naughty+Dog&sf40966922=1