Daud

Daud's multiplayer skin

Biographical information

Status:

Deceased

Political information
Game information

Appearances:
Daud was part of the Bedouin tribe led by Salim in Uncharted 3: Drake's Deception.
Biography
Edit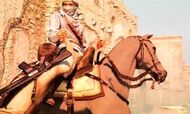 At the end of
The Settlement
, Daud and the rest of the Bedouins entered the
village
. They found
Katherine Marlowe's agents
 pinning down a helpless
Nathan Drake
. After Salim's permission, Daud gestured for Nate to get on his horse. As they rode through the village, a short cutscene showed Daud and Nate through an enemy 
T-Bolt Sniper
 scope, before Daud was shot dead. Nate left his body in the village and rode out with the others on his horse.
Multiplayer
Edit
He is available as a multiplayer skin in Uncharted 3: Drake's Deception after the purchase of the Rogues Packs.
Like the Custom Hero, his voice can be altered.
In the single player mode, Daud only has his clothes white.
He is the only known Bedouin to be killed in the village battle.