Dry Docks is a multiplayer map in Uncharted 3: Drake's Deception. The map is based on a location (known as "The Drydock" that was cut from the single player campaign due to its length.[1] It was released for free on 29 October 2013 to celebrate the game's second anniversary.[1]
History
[
]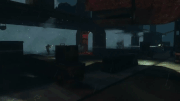 Despite being featured in the Uncharted 3: Drake's Deception multiplayer beta trailer in a clip where villains are firing while a storm is ongoing, the map was not included in the game for the first two years of its life cycle. 
The map was originally planned to rise and sink in the ocean as the match progressed - parts of the map would sink underwater, enabling players to swim around the map. However, once the map was finally released, this dynamic aspect of the map was not included. The players can however swim around the map in a limited area.
References
[
]