The jeep is a recurring vehicle in the Uncharted series, appearing often due to their rugged and off-road nature being more suitable for the locations where Nathan Drake's adventures take him. Nate isn't always the driver, as Elena Fisher, Victor Sullivan, and Chloe Frazer also have proficiency in operating jeeps. Jeeps mainly prominently featured in gameplay in a few chapters, specifically in the first game. It was not until the fourth game, together with and fifth spin-off, that they would be freely drivable through an entire area.
History
[
]
Drake's Fortune

[

]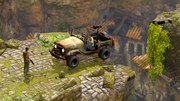 The first jeep in Drake's Fortune is seen in "A Surprising Find", where Nate and Elena used the latter's jeep to escape Atoq Navarro's mercenaries. Elena later used a jeep at the end of "Unlocking the Past" to free Nate from Eddy Raja's imprisonment, which turned into a chase through the jungle in "Out of the Frying Pan". They took the jeep from the pirates' base of location, the fortress, and drove it north, following the bay's cliff edge to the north. During the case, Nate used a mounted turret emplacement on the rear bed of the truck, which sported both a machine gun and a grenade launcher.
Eventually they used it to cross a destroyed bridge, but forcible came to a stop, teetering on-top of another cliff's edge, some distance above their destination; the Drowned City. With the arrival of Eddy Raja, Nate was forced to ultimately put the jeep in reverse, driving it off the cliff and into the water below, where they themselves also regained their freedom.
A Thief's End

[

]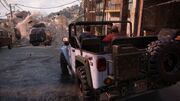 Nate has access to a jeep in A Thief's End. Unlike previous Uncharted titles, the jeep is operable, allowing the player much faster travel and set pieces on a much larger scale. The jeep is capable of overcoming all terrains. Driving environments are fully open, with multiple paths and destructible objects, much like the destructible cover in combat areas.
Nate can transition to on foot and vehicular traversal seamlessly, allowing for a more realistic experience and faster paced chase sequences.
The Lost Legacy

[

]