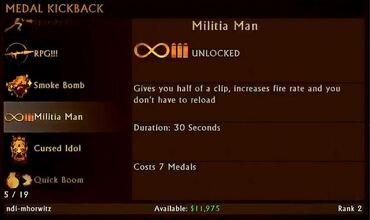 Militia Man is a medal kickback available in Uncharted 3: Drake's Deception. Once activated, weapon reloading is disabled for 30 seconds, thus allowing the user to fire for as long as their ammo supply allows. It costs 7 medals. Militia Man does not work on the RPG or the T-Bolt Sniper.
During the uncharted 3 beta, if a player killed an enemy who had the militia man kickback active, "The Redcoats Are Here" medal was awarded. However, the medal was not seen in the full game.
In the Cooperative loadout screen, the name is misspelled as "Milita Man".