[

]
Panama, officially known as the Republic of Panama, is a location in Drake's Fortune, Golden Abyss, and A Thief's End. It is a country located in Central America, on the border with the South American continent.
History
[
]
A Thief's End

[

]
Several year prior to the events of Drake's Fortune, Nathan Drake and his brother Samuel Drake, along with Rafe Adler, went to Panama to collect the Saint Dismas Cross in the Panamanian jail led by the prison's corrupted warden Vargas. Though successful, Rafe kills Vargas due to the latter wanting some of the treasure, instigating a riot that resulted in the trio fleeing. However, Sam was shot across his back by stray fire from the guards while jumping across a building, wounding him and despite Nate trying to pull him up the building, his grip slips and Sam falls into a metal roof. Nate and Rafe presume him dead and flee the prison, successfully escaping. It is later revealed that Sam survived the gunshots and was treated before put back into a prison cell.
Drake's Fortune

[

]
It was off the coast of Panama that for centuries, Francis Drake was believed to have been buried at sea. In Drake's Fortune, an expedition by Nathan Drake and Elena Fisher revealed that the coffin was empty, except for Drake's lost diary. This proved Nate's theory that Drake had faked his death to cover up his discovery of El Dorado.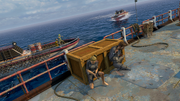 The two were soon ambushed by a gang of pirates. After a lengthy firefight, their salvage vessel became extremely damaged and was eventually blown to pieces. They managed to jump overboard before being caught in the explosion, and were rescued by Victor Sullivan. The three of them flew back to shore in Sullivan's Hog Wild seaplane. Back at shore, Nate and Sully discussed Sir Francis' journey to find El Dorado, while Elena was preoccupied with a phone call with her producer. The two decided that if they were to go after the treasure, it would benefit them if they left Elena behind, despite how well she can hold her own. The two sailed off without Elena, who tried to give chase but was not fast enough.
Geography
[
]
Drake's Fortune

[

]
Tropical dock
[
]
Initially, all that was seen of Panama in Drake's Fortune, was a large, plain sea, where Nate and Elena fished out Francis Drake's coffin. When Sully flew them back to the shore, what was seen is a small, tropical beach area, featuring cottage-like houses surrounded by a lush environment. Here lies a dock, with Sully's boat, Sullivan's Travels, initially docked beside it. This island is the only specific location in the game that is not actually playable.
Golden Abyss

[

]
As for Panama's history in Golden Abyss it is mentioned that the game takes place in Panama. While it is not told what part of Panama we do know it takes place in a jungle where the fabled Quivira is said to be located at.
Panama City
[
]
Shanty town
[
]
Panamanian prison
[
]
Gallery
[
]
References
[
]