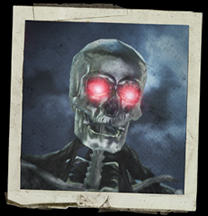 Platzor is a selectable multiplayer skin in Uncharted 2: Among Thieves.
Overview
Edit
Uncharted 2: Among Thieves
Edit
Multiplayer
Edit
Description
Edit
Platzor's appearance is based on that of Skelzor's; he is an anthropomorphic skeleton with a crimson heart and glowing red eyes. The main difference between the two skeletons is that Platzor's bones are covered with platinum, making him shiny silver in color.
Similar to other skeleton skins, Platzor has no voice when climbing or jumping, making him an ideal skin for stealth.
Availability
In Uncharted 2: Among Thieves, Platzor is available for usage once the Siege Expansion Pack has been purchased. He is be placed on the villains side.
Platzor does not re-appear in Uncharted 3: Drake's Deception as a stand-alone skin, but as part of Skelzor's customization.
Appears in
Edit
Uncharted 2: Among Thieves (multiplayer only)
Community content is available under
CC-BY-SA
unless otherwise noted.