Rika Raja is a character that appears in Uncharted: Eye of Indra. She is Eddy Raja's sister and the owner of a bar in Indonesia.
History
[
]
Eye of Indra

[

]
Nathan Drake first meets Rika when he is studying various files in a bar. Two thugs approach him, and Rika interrupts the scuffle and orders them to leave, revealing that she owns the bar. Nate offers to replace the broken furniture in return for some help translating the Indonesian files, that concern the fable artifact; the Eye of Indra. Nate tells her about the job he's planning for Daniel Pinkerton, who has hired Nate to find the Eye. Rika offers her help, and they discover the artifact is actually hidden within the other treasures of Indra, located in an oblivious Pinkerton's safe. Nate decides to steal the artifact from Pinkerton instead.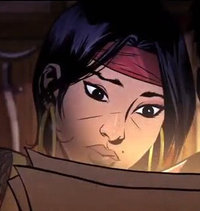 The two of them end up sleeping together, and the following morning, Nate has second thoughts about allowing Rika to help him. As they argue, two pirates burst into the room, led by Eddy Raja, Rika's brother, and Nate's old business rival. Eddy is furious to learn that Nate and his sister have slept together, but Rika manages to calm him down, and convinces Nate to let him in on the job.
As Nate and Eddy get into trouble while raiding Pinkerton's mansion, some ingenious improvisation gets them out of it, and they eventually escape with the Eye, while Rika kills Pinkerton.
The next day, as the trio discuss what they'll do next, Rika double crosses both Eddy and Nate at gunpoint, and steals the Eye. Nate promises her that they'll meet again, and Rika says she'll look forward to it, before taking off into the distance on a boat.
Uncharted 2: Among Thieves

[

]
Rika is mentioned once in Drake's journal. Her address and phone number are noted down on the page. She is known as Rika R.
Rika is also available as a multiplayer skin in the multiplayer mode of Among Thieves. Her multiplayer skin can only be bought from the PlayStation Store in the Eye of Indra bundle featuring all four episodes of the Eye of Indra and also Daniel Pinkerton's multiplayer skin.
Uncharted 3: Drake's Deception

[

]
Despite being listed in the game's credits as an "Addition Multiplayer Voice",[1] Rika has not appeared as a multiplayer skin. In a Q&A session held on the PlayStation Community forums, a Naughty Dog developer said that Rika "isn't slated to be added to the multiplayer", and was a unique character skin tied to the Eye of Indra comics who fit more appropriately into the world of Uncharted 2: Among Thieves.[2]
References
[
]
↑ Naughty Dog. Uncharted 3: Drake's Deception closing credits. (SCE Worldwide Studios). PlayStation 3. (2011).
↑ Trawnza (June 21, 2012). "Q&A with the NaughtyDog Development Team: June edition". PlayStation Community Forums. Sony Computer Entertainment America LLC. Retrieved August 16, 2012.