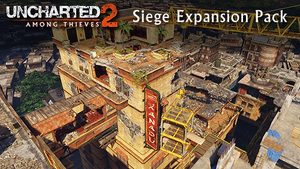 The Siege Expansion Pack is a multiplayer DLC pack for Uncharted 2: Among Thieves. It was released on April 22, 2010 and originally cost US $5.99. In the 9th of May 2012, all Uncharted 2 downloadable content packs (including the Siege Expansion Pack) were free to download.[1]
Contents
Edit
The Siege Expansion Pack introduces six Skins, two Maps, the Siege Co-op Arena Playlist, and eleven Trophies. It is purchasable from the PlayStation Network Store.
The new skins are the Heroes: Wetsuit Drake, Baseball Shirt Drake and the Villains: Prakoso, Platzor, Glowzor, and the Dead Explorer. Wetsuit Drake and Prakoso are from Uncharted: Drakes Fortune and Baseball Shirt Drake is from Uncharted: Eye of Indra. See the Gallery below.
The two new maps are titled The Highrise and Museum. Not everyone has purchased this DLC, so these maps are not found as frequently in matchmaking.
Siege Co-op Arena Playlist
Edit
The new playlist is named Siege. It is a hybrid of Co-op Arena Survival and Competitive King of the Hill modes, where two to three players must occupy and hold a capture area for a certain amount of time while fighting various NPCs. The capture area is a large ring centered around a pedestal or "hill." All the players must be inside and on the same level as the ring for the capture count down clock to advance to end the round. When a round is over, the "hill" moves to another area of the map.
On all Co-Op Arena modes you can play as any of the Hero skins that are available to you.
Note: Killing enemies does not count untill all members are in the capture area. Once the area turns green, kills then count.
Trophies
Edit
The eleven new Trophies are based on completing a game mode or achieving a number of medals:
References
Edit
Community content is available under
CC-BY-SA
unless otherwise noted.