Game development is how and why a game is made. A consistent development theme is that Uncharted 2: Among Thieves improved and expanded on the design of Uncharted: Drake's Fortune in many ways.
Behind the Scenes Videos
Edit
Sony has posted twelve short documentary Uncharted 2: Among Thieves - Behind the Scenes video segments which highlight the motivation, technology, acting methodology, and more on how Naughty Dog developed Uncharted 2. The first several videos are included on the Uncharted 2 game disk and can be purchased from the Single Player Store, but only the latter are available on the Internet.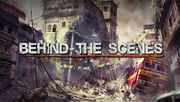 Game and Level Design
Edit
Creative Director Amy Hennig gives an overview of how Naughty Dog tied together technology, environment, and story to create a compelling gameplay experience in a video and text interview by GamerTV titled The Best Games of 2009: An Inside Look at Uncharted 2: Among Thieves.
"Our primary goal was build on top of what we worked so hard to create in the first game, yet also be sure not to repeat ourselves."
"We increased the visceral quotient this game by going bigger on the action sequences, but we tried to keep it rooted in Drake's core mechanics, in game, whenever possible."
"Basically, we wanted to make sure we're looking at the sum of all parts: story, the integration of story into gameplay, big moments, new player mechanics, and new layout philosophies all fold into each other and compliment the overall experience, which is the most important part of all of this."
"Those action sequences that propel Drake closer to his ultimate goal and get us from environment to environment require a whole new set of environments dedicated to momentum that's paced for action."
Lead Game Designer Richard Lemarchand presented at the 2010 Game Developers Conference on the overall methodology and experience the to craft the game. Eurogamer's Digital Foundry recaps and expands on the talk with videos, snap shots of design documents, and more in Among Friends: How Naughty Dog Built Uncharted 2.
"Uncharted 2 was created in a total of 22 months, and six months of that schedule was spent in pre-production."
Lead Designer and Writer Neil Druckmann was interviewed on Gamasutra in Reflecting On Uncharted 2: How They Did It and tells us what led to the Train and Collapsing Building levels:
"We really wanted to push the technology forward that would allow us to do that, so one of the first things we did was create a tech that would allow us to have moving objects that let us keep Drake and all the allies and other NPCs on those moving objects with all of their mechanics and all of their move sets."
Excerpts from Game Developer Magazine's article by Richard Lemarchand titled In-Depth: How Planning Derailed, Playtesting Redeemed Uncharted 2 bears out the following on how they play tested, polished, and rebalanced levels:
"As they played, we uploaded metrics about their actions to a database over the network—things like how long it took them to complete each part of the game, or how frequently they died between continue points. We put the data into a spreadsheet and looked at the median values for each group. After color-coding cells with values above or below certain targets, parts of the game that were potentially problematic immediately jumped out at us. We then started looking at the gameplay videos to investigate each potential problem."
Mike Hatfield, Lead Technical Artist, comments on the healthy contention between art, physics, pacing, and combat for a number of levels in an article titled How Uncharted 2 Set the Technical Benchmark. The article is an excerpt from the book The Art of Uncharted 2: Among Thieves.
"The overall result of all these effects is to overwhelm the player so that they don't really have time to pick it apart and figure out: 'Hey, that's pre-simulated, and that's real-time.' We just want them to get caught up and pulled into the whole experience. All they know is they're controlling Drake and trying to survive."
A fictional level called Strip Search was designed for Uncharted at a PAX East 2010 Panel, Game Design with the Dogs, where we get to see how the different design roles and tools pull together with audience participation.
Story, Acting, and Cinematic Design
Edit
Amy Hennig, Creative Director, describes the script, casting, and direction of the story and actors in The Cinematics of Uncharted 2. The article is an excerpt from the book The Art of Uncharted 2: Among Thieves.
"Unlike most other game developers, we have the actors performing together on the mocap stage, so it's really much more like a theatrical or on-camera performance in that way; it's sort of like going back to the actors' roots and doing 'black box theater'."
Playstation Blog conducted two interviews with the actors at E3 in 2009:
Art and Character Design
Edit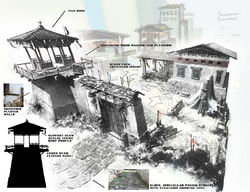 Robh Ruppel
, Art Director, was interviewed for
CGSociety :: Artist Profile
"...for the Borneo level, the artists started by making it a wet, swampy jungle with thick vines and trunks and heavy moss everywhere. That's when it really evolved and became its own distinct jungle. 'We set the time of day for early morning, and moved away from an all-green environment,' said Robh. 'We looked for anything that would distinguish it from the first game, because we wanted to avoid Uncharted 2 being labeled another jungle game. Overseeing the look of the Train level was pretty gratifying too. The artists working on it really followed the designs so well and concepts so closely, even down to how the ground looked.'"
Robh has shared some level design created with Sketchup as well as concept art in Robh Ruppel – Google SketchUp in Game Design.
Rich Diamant, Lead Character Artist, has spoken at the Games Developer Conference for two years on using and integrating art tool software packages and shared some renders of his artwork.
Sound and Music Design
Edit
Sony, Skywalker Sound, and composer Greg Edmonson came together as a panel to recap the process of creating and balancing the sound effects, soundtrack, and dialog that made the game surround audio environment in the video documentary "An Evening with the Uncharted 2 Music Team."
In an exclusive Interview With UNCHARTED's Greg Edmonson, he addresses many topics in creating the soundtrack, selecting instruments to evoke exotic locations, and recording the soundtrack:
¨On UNCHARTED 2, the music budget was much larger and our orchestra totaled about 80 people. There is a huge difference in the sound of 5 players versus 80 players. So how lucky am I to get to work with Naughty Dog and Sony. They care, they understand and they are willing to spend the money to make it sound like a movie score!¨
Combat and Enemy AI Design
Edit
Benson Russell's Gamasutra Feature article A Deeper Look Into The Combat Design Of Uncharted 2 reveals enemy hierarchy:
"In addition to shotgun, rocket launcher, and sniper classes, we added a fully armored class, a heavy class that wields a mini gun, riot shield class, and we separated our basic grunt into light and medium classes (the light and dark uniformed soldiers)."
His follow up article The Secrets Of Enemy AI In Uncharted 2 gives an overview of what and how they control the behavior of non-player character enemy AI:
"The way we define an AI type is by creating a set of default data for all of the various AI systems. It's very open-ended, to allow us the ability to create almost any kind of behaviors we want without having to hardcode them into the engine via programming support (although we can go that route for special cases)."
Multiplayer Design
Edit
Naughty Dog designed a
multiplayer
, networked game over the Internet that coordinates up to ten different players and gives them the illusion that game play is perfectly synchronized during a match. Variable network lag can break that illusion and potentially be abused to give players an advantage.
Arne Meyer, Naughty Dog Community Coordinator, has revealed some details on how multiplayer works, citations are below:
Players authenticate to the PlayStation Network, which handles friends lists, match invites, text and voice chat.
The game contacts Naughty Dog server(s), which:

Synchronizes their account stats, provides LiveData updates, and displays the entry message.
Registers player status: in the lobby, playing a game, looking at the leader boards, or playing a custom game as well as your PSN friends list: in single player, playing another game, or off line.
Manages creating and joining parties in the lobby, but players who are not at the same LiveData version will not be able to join each other, because different versions will show others in single player mode.
Allows entry to playlists and custom games, checking minimum and maximum player counts.

A player or party starts a play list and the Naughty Dog server(s) fills the remaining slots with players:

Matching is done for players and parties of recently finished matches (optimal game, close game) followed then by individual players.
Level and network robustness weigh on matching:

The party leader's level represents all of the party, regardless of individual player levels.
Network proximity/robustness/lag is continually updated and represented by the "network bars" icon (analogous to a mobile network strength) next to a player's name.

"You're always ... match[ed] by location (based on IP) and language/region of your game and ping time so that your initial options are for the most ideal connection.... to match you by ping and level. The level range for each ping (sub-100ms, 100ms-200ms, above-200ms I think they were) is like 40 levels right now, so you should have plenty of 100ms ping opponents. Given that the majority of our currently playing population falls between levels 10 - 49 to the tune of 77% of players on any given day, even level 80s get a shot to find the lowest ping times in over 30% of our activley player population. We can adjust this at any time, and we may."[1] More detail: Forum Answer1 and Forum Answer2.

The match starts and peer to peer networking sends out player data to the other players as well as the central server, which tracks game events such as kills, environmental changes, medals, etc.

"...one player does serve as the master sync point among all players, but that master or authority can migrate across users or nodes within that structure."

Players will see a short interruption to the match with the "Migrate Host" message, then players restart in their initial home position to continue the match.

The Naughty Dog server(s) logs player match stats to eventually be added to the public web server player statistics.

"Basically, all we need is enough internet bandwidth to setup the game and send the end of game data back to our servers. Once all the consoles are in the match -- we're not using the internet at all if they're connected locally."[2]
Technology Design
Edit
Pal-Kristian Engstad, Lead Engine Programmer, created a two part overview on how to optimize using the PS3's Cell Engine SPUs.
These co-processors are extremely fast engines for computation, but they require new techniques for use, including parallelization. Consequently, they are a challenge for programmers to master. Naughty Dog's programmers have worked to utilize nearly all of the SPUs combined power to elevate Uncharted 2's graphics to new levels for PlayStation 3 platform, winning a technical award for best graphics of 2009.
Community content is available under
CC-BY-SA
unless otherwise noted.