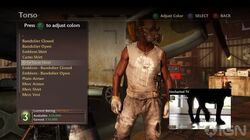 Uncharted TV is a feature in the multiplayer component of Uncharted 3: Drake's Deception.
Uncharted TV is a small screen at the bottom right hand corner of the multiplayer menu. It shows a variety of content related to Uncharted 3 including interviews with the development team and voice actors, behind the scenes clips, information on new multiplayer features, and fanmade "Best Plays of the Week" videos.
YouTube account suspensions
Edit
On August 3, 2011, several weeks after the beta had ended, all YouTube accounts that had videos featured on Uncharted TV were suspended. The channels affected were Naughty Dog's official YouTube channel and "Rockshow2oo8", creator of the "Best Plays of the Week" series. The reason given by YouTube for the suspensions were violations such as "spam, scams and commercially deceptive content."[1] It was confirmed by Naughty Dog that this issue was caused by Uncharted TV.[2]
The next day, both channels were restored after intervention from Naughty Dog.[3]
References
Edit
Community content is available under
CC-BY-SA
unless otherwise noted.