Uncharted is an action-adventure third-person shooter platform video game franchise developed by Naughty Dog and published by Sony Interactive Entertainment. The series was first developed for the PlayStation 3 hardware, before others such as PlayStation Vita and PlayStation 4.
The series follows the adventures of treasure hunter and fortune seeker Nathan Drake as he sets off to uncover the truths behind numerous mythical treasures and lost cities, resulting in clashes with rival hunters and thieves. The series features several supporting characters, including Nate's mentor Victor Sullivan, love interest Elena Fisher, and former flame Chloe Frazer, who also serves as the main protagonist of a spin-off game.
The series was generally met with critical acclaim and numerous end-year awards, as well as honors for its technical achievements, storytelling, and level design; Drake's Fortune was very well-received,[1] with each of its numbered sequels receiving universal acclaim from critics.[2] The series' spin-off titles Golden Abyss and The Lost Legacy were also positively received. The success of the franchise led to expanding into other forms of media such as novels, comics, and an upcoming film.
Gameplay
[
]
While minor changes occur throughout the games, gameplay often involves a combination of platforming, gunplay, elaborated set-pieces, and puzzle-solving. Collectibles known as treasures are also featured in each game, while some games also feature other types of collectibles.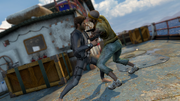 In each game of the mainline series, the player takes control of Nathan Drake. The Lost Legacy uses a different protagonist serving as the main playable character. Gameplay involves performing several platforming tasks that must be completed to progress through the storyline. Such tactics include jumping, swimming, grabbing, shooting, climbing structures, sneaking along ledges, and swinging from ropes. Actions such as driving and boat riding were added or developed further in later titles.
The Uncharted series is part of the action-adventure genre, however, an ideal amount of freedom is provided through the design of the maps. Elements of open-world design are featured in later titles, as a way to encourage free-roaming to discover scattered treasure as part of side quests or utilizing stealth to avoid enemy detection. In A Thief's End, role-playing was enhanced to include optional conversations between characters. The series as a whole follows the structure of traditional action games, with players being navigated through third-person perspective and following a single line of chapters with linear gameplay.
Shooting is a central gameplay aspect in the series, as players must fight through several groups of enemies. The player is only limited to two weapons at a time, such as a handgun and long gun (rifle or shotgun), plus a total of up to four grenades. However, each game features a wide variety of weapons. Such weapons can be obtained from defeated enemies or found scattered around the environment. If the player dies, whether it is from being gunned down, blown up, beaten, or taking a huge fall, they will respawn at the previous checkpoint.
A Thief's End introduced the function of jeeps in a large, open-world environment, which is also carried over into The Lost Legacy. This gives players full freedom to drive wherever they please, but still, must explore certain areas to progress through the story.
Multiplayer was first introduced in Among Thieves. It features both competitive and cooperative gameplay. Co-op mode supports up to three players, taking the roles of Nate and two other companions. Also included are missions that involve the usual firefights and platforming, but also team-based objectives. If partners become critically injured, or are grabbed by an enemy, players can assist them.[3] Competitive mode supports up to ten players that can compete against each other in two teams, both with five players. Six competitive modes are featured, including team-based objectives and single or team-based deathmatches. Survival mode was introduced in A Thief's End. It involves fighting several waves of swarming enemies and completing other tasks.
Multiplayer allows players to accumulate points and move up the rankings. This can be used to purchase additional skins for both heroes and villains.
Synopsis
[
]
Setting
[
]
The series is set in the real world, featuring realistic environments within real countries, such as Italy, France, Panama, and several more. Environments consist mostly of ancient, lush jungle environments, while other parts of each game take place in more urbanized settings. Most ancient environments are tied to specific historical characters, such as Francis Drake, Marco Polo, Henry Avery, and several more that the series cover.
The series begin in the year 2007, starting with Uncharted: Drake's Fortune, at which point fortune hunter Nathan Drake was currently separated from his wife Elena Fisher, yet they still take part together in adventures, along with Victor Sullivan, Nate's best friend and mentor.
Plot
[
]
The story begins with Nathan Drake off the coast of Panama, Elena Fisher and Victor Sullivan. After recovering the lost coffin of Sir Francis Drake, they found that Drake has discovered a big secret during his voyage, a treasure that turned out to be a cursed statue known as El Dorado. The statue was responsible for the death of Drake and his crew. As Nate and his companions trekked through a large hidden island that supposedly held the treasure, they were confronted by Gabriel Roman and Atoq Navarro, who were also after the treasure.
Section incomplete
This section is empty or needs to be expanded. You can help the
Uncharted
Wiki by
writing it
.
Releases
[
]
Games
[
]
Future
[
]
According to Neil Druckman, a different studio could make a fifth Uncharted game. If such a game is made, Naughty Dog will be involved in some capacity.[4]
On September 9, 2021, Sony revealed the Uncharted: Legacy of Thieves Collection at the Gamescom PlayStation showcase. This collection contains remastered versions of Uncharted 4: A Thief's End and Uncharted: The Lost Legacy.[5][6]According to Sony, the game release is scheduled for 2022 on PS5 and PC. However, PS5 players will get to enjoy the remasters earlier than the fans on PC.
PlayStation Showcase 2021 Trailer, released by PlayStation on YouTube, September 9, 2021.
Other media
[
]
Motion Comics
[
]
Uncharted: Eye of Indra is a four-part motion comic prequel which sets up the events of Drake's Fortune. A few weeks before the first game, it follows Nathan Drake and Eddy Raja in Indonesia, as they attempt to steal an artifact called the Eye of Indra from a crime lord named Daniel Pinkerton.
A motion comic of the prologue to Drake's Fortune was created, using the same voice clips from the game.
Other games
[
]
Uncharted: Drake's Trail, released in 2009, was an internet game made available on the official European Uncharted website. As a private investigator in the hire of Elena Fisher, the object of the game was to find Nate by following his trail using various clues left behind by him. This game is no longer available.
There is also an Uncharted 2 minigame released on the official European site that is still currently active.
Uncharted Dual Pack is a 2011 compilation of the first two action-adventure games within the Uncharted franchise. It was released for the PlayStation 3 on September 6, 2011, to promote the release of the then-upcoming sequel Drake's Deception. It contains Drake's Fortune, a Game of the Year edition of Among Thieves, and Eye of Indra motion comics. It also includes a Super Voucher, which has DLC from Among Thieves, as well as an avatar and a dynamic theme from Drake's Deception.
Uncharted: The Nathan Drake Collection is a remastered compilation of the first three Uncharted games released on October 9, 2015, in North America for the PlayStation 4.
Novels
[
]
Uncharted: The Fourth Labyrinth is a novel written by Christopher Golden, and concerns Daedalus' Labyrinth, a maze used to hold the mythical Greek monster; the Minotaur. The book was released on October 4, 2011.
Drake's Journal is a book that chronicles the making of Uncharted 3: Drake's Deception. It was by Nolan North, Nathan Drake's voice and mo-cap actor, and published on November 1, 2011.
Others
[
]
Uncharted 3: Race to the Ring is an reality TV/game show that aired on October 31, 2012 at 11:30pm on Spike TV.
Film
[
]
An Uncharted film version was announced by Sony. It is based on the original game, Drake's Fortune, and will serve as a prequel to the games. Ruben Fleischer is producing the picture, from a script by Joe Carnahan and Rafe Judkins with Tom Holland and Mark Wahlberg starring. It was produced by Columbia Pictures, PlayStation Productions, Naughty Dog, and Sony Pictures Releasing. It was originally released theatrically in the United States on March 5, however it was delayed to October 8, 2021 due to the COVID-19 pandemic.
References
[
]